The Centre for Research Expertise in Occupational Disease (CREOD) is dedicated to improving understanding and prevention of occupational disease. Our research addresses the full spectrum of the health and safety continuum: from prevention, through exposure assessment, early recognition, diagnosis, treatment, return-to-work, and outcomes. We work across disciplines and methodological paradigms to contribute to policy, knowledge, and practice in both the workplace and clinical settings. Our research programs include Occupational Lung Disease, Occupational Skin Disease, Hand-Arm Vibration Syndrome (HAVS), and Biologic Hazards. Learn more about our research here.
CREOD is funded by the Ontario Ministry of Labour and is affiliated with the Gage Occupational and Environmental Health Unit, a collaborative program of the University of Toronto and St. Michael's Hospital. The centre was founded in 2004 with support and funding from the Workplace Safety and Insurance Board. Dr Linn Holness is Director. Founding members: Linn Holness, Paul Corey, Ron House, Gary Liss, Jim Purdham, Andrea Sass-Kortsak, James Scott, Frances Silverman, Susan Tarlo, and Dave Verma.
The below image was developed in 2007 to illustrate our history, beginning with the establishment of the University of Toronto's School of Hygiene in 1925. An updated timeline is under development.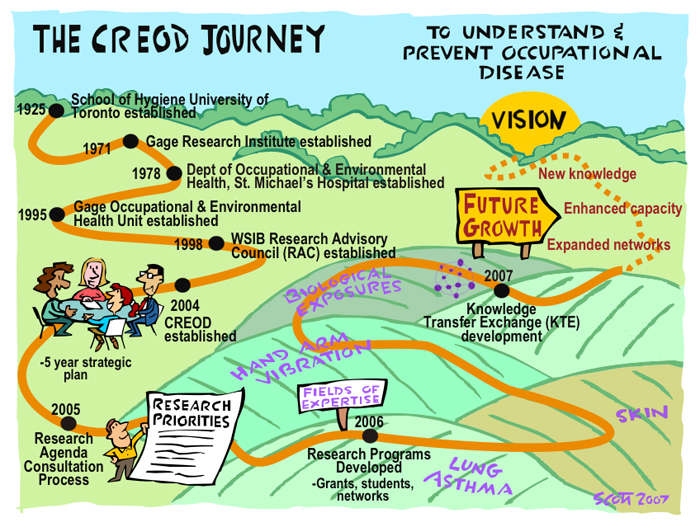 CREOD continues to actively build linkages with researchers from a broad range of disciplines and perspectives to study occupational exposures, mechanisms, and disease.