The Centre for Research Expertise in Occupational Disease (CREOD) is dedicated to improving understanding and prevention of occupational disease. Our research addresses the full spectrum of the health and safety continuum: from prevention, through exposure assessment, early recognition, diagnosis, treatment, return-to-work, and outcomes. We work across disciplines and methodological paradigms to contribute to policy, knowledge, and practice in both the workplace and clinical settings.
Follow the links on the left to learn more about the diseases we study, the projects we're working on, and our latest publications.
Some general occupational health resources:
Ontario Occupational Health Community Resources (PDF)
Historical Perspective on Occupational Disease (PDF slides)
Occupational Exposure Screening Tool (PDF form)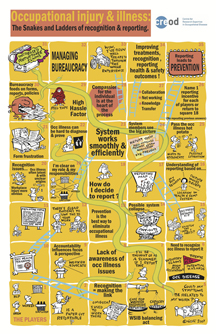 This board game is an artist's representation of focus group discussions with various "players" in the Ontario worker's compensation system.
Learn more…