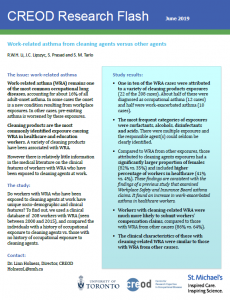 Work-related asthma (WRA) remains one of the most common occupational lung diseases, accounting for about 16 per cent of all adult-onset asthma. In some cases the onset is a new condition resulting from workplace exposures. In other cases, pre-existing asthma is worsened by these exposures.
Cleaning products are the most commonly identified exposure causing WRA in health care and education workers. A variety of cleaning products have been associated with WRA.
However there is relatively little information in the medical literature on the clinical features of workers with WRA who have been exposed to cleaning agents at work.
Read June 2019 Research Flash (pdf file)