Preventing work-related skin disease: A qualitative study to identify
characteristics of a desirable training program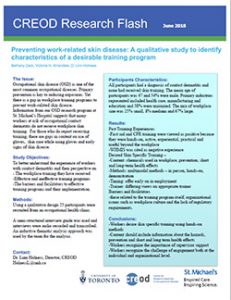 The Issue:
Occupational skin disease (OSD) is one of the most common occupational diseases. Primary prevention is key to reducing exposures. Yet there is a gap in workplace training programs to prevent work-related skin disease. Information from our OSD research program at St. Michael's Hospital suggests that many workers at risk of occupational contact dermatitis do not receive workplace skin training. For those who do report receiving training, there are gaps in content on use of gloves, skin care while using gloves and early signs of skin disease.
Read more (pdf file)